Chimney Inspection In Austin TX
Proudly Providing Austin And The Surrounding Area With Professional Chimney Inspection & Sweep, Air Duct Cleaning & Dryer Vent services.
Chimney & Fireplace Inspection
WHY CHIMNEY INSPECTIONS ARE NECESSARY?
"It is impossible to eliminate all fire and carbon monoxide hazards associated with your fireplace, stove, or furnace, but there are things you can do to make your home safer and reduce your risk. Routine chimney inspections are the most important thing you can do."
What to expect during a chimney inspection?
During a professional chimney inspection, an experienced chimney technician will check for creosote buildup inside the chimney flue, inspect your firebox for any visible cracks, test your log stater to detect gas or carbon monoxide leaks, then inspect the chimney structure & chimney cap on the roof for cracks, leaks or blockages , and other issues that will increase your risk of fire / carbon monoxide poisoning or expensive repairs
We will also assess the condition of the flue liner, chimney cap, and chimney crown.
How long does a Chimney Inspection Take?
An annual Level 1 chimney inspection typically takes between 30 and 60 minutes to complete. We will need access to the fireplace and the roof, so please make sure that all combustible materials (such as wood, paper, and rugs) are removed from the area before we arrive.
What are the common types of chimney inspection?
Level 1 Chimney Inspection – A Level 1 inspection is the most common type of chimney inspection. It involves a visual examination of accessible portions of the chimney structure, including the Firebox, Damper, flue, Flashing, chimney crown, and chimney cap.
we will check for any signs of damage, water leaks, or blockages to ensure your safety while using the chimney.
plus any connection with the appliance. The Technician looks for blockages or combustible deposits, and confirms the appropriate installation of all parts.
This inspection is recommended annually for regular maintenance when no significant changes or issues are suspected.
Level 2 Chimney Inspection – A level 2 chimney inspection is a more thorough examination of the chimney, this kind of inspection will examine all aspects included in a Level 1 inspection and a visual check (through video scan or other methods) to analyze the condition of the interior surfaces and joints of the flue liner Plus, it should inspect possible combustible's locations and visible parts of the building's exterior and interior including attics, crawl spaces, and basements.
This inspection involves using special equipment to check for hidden damage or blockages. A level 2 inspection is typically required upon the sale or transfer of a property, if the system was modified, such as switching fuel type (wood burning to gas, for example), or changing the flue material or shape (through relining, for example), when an operational malfunction happens or when there has been external damage to the chimney system due to fires, earthquakes, and weather events.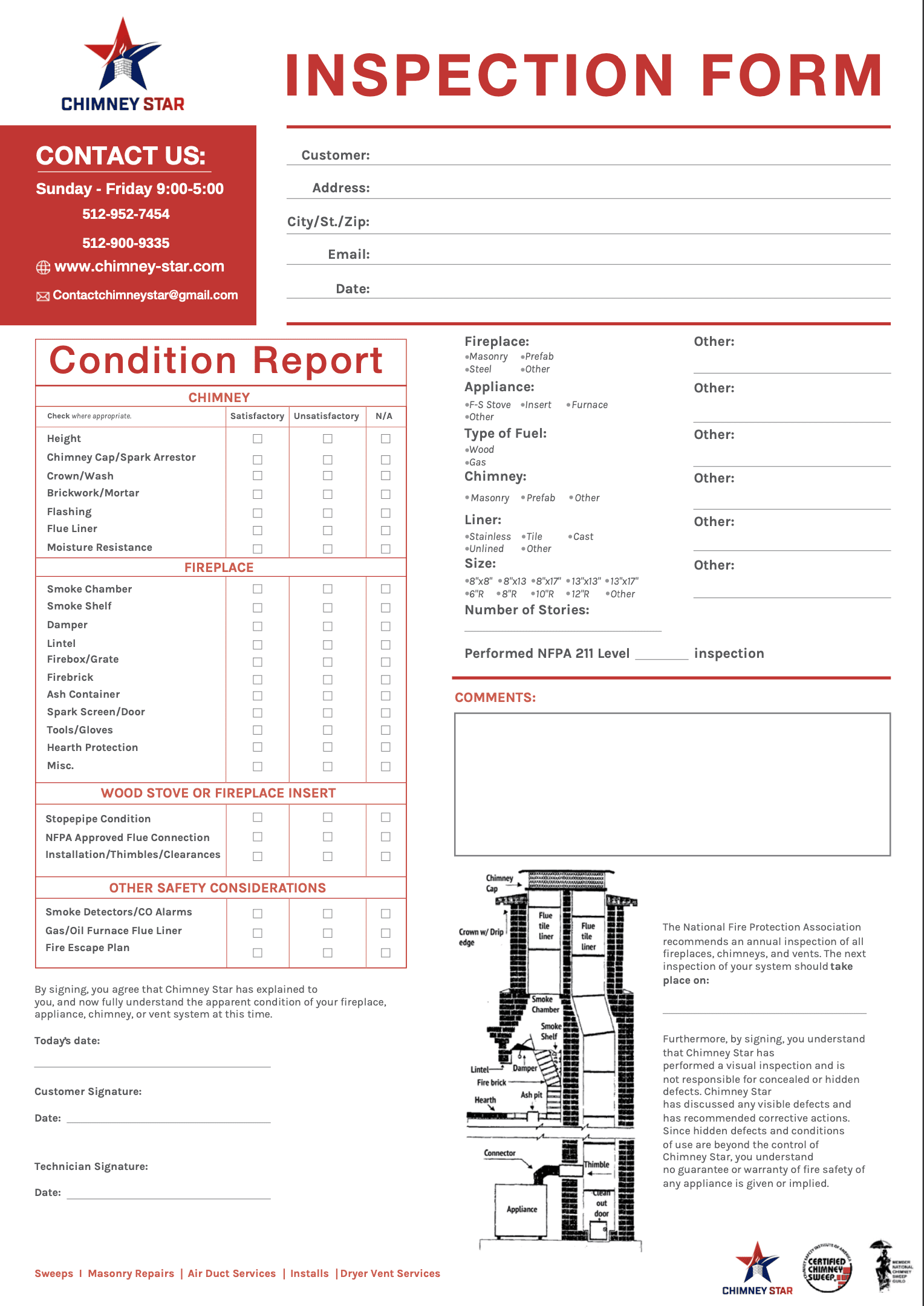 Addtional Chimney & Fireplace Services
We are available via phone or email. You can also use The quick contact form below or Book Online