Austin, Texas is known for its high levels of air pollution, particularly during the summer months when temperatures can rise and wind speeds can be low. This can lead to the accumulation of pollutants in the air, including ozone, particulate matter, and volatile organic compounds (VOCs). These pollutants can have negative effects on human health, including Allergies respiratory issues, heart disease, and cancer.
Don't let dirty ducts compromise your indoor air quality – Call us now for a thorough air duct cleaning!
Had an excellent experience with Abram at Chimney Star. This was the first time to have our chimney cleaned but also needed some repairs. Abram was detailed in how he described both the inspections they would complete but also the steps for the repairs I'd asked for prior to them coming out for the first visit. They did all the initial work quickly and cleanly in the first visit and after custom ordering a part, came back and finished the job the next week. He was courteous, clean and communicated each step and kept me informed. HIGHLY recommend working with Chimney Star and will for all my future cleanings or repairs.
Peter Huston
18:06 28 May 23
These guys were incredible. They were very helpful, very communicative, and clean! I loved that they involved me in every step of the process. They were also very nice to my crazy doggos.
Angela Powers
23:04 19 May 23
I have used a few different companies to clean my air ducts in the past and I am happy to say that Chimney Star is literally the best!! Professional, courteous, and efficient. Thank you
Jesus Bruno
15:20 14 May 23
Chimney Star is the best air duct cleaning service I've ever tried! Moses was a true professional - he arrived on time, explained the process in detail, and did an outstanding job. The result was amazing! My air ducts are clean and free from dust. I highly recommend Chimney Star to anyone looking for professional air duct cleaning in Austin.
Richard Gonzalez
21:25 13 May 23
I needed to repair my chimney cap, Ive got a and schduled the work with chimney star, the team did a fantastic job. Cap looks as good as new
Sunday Victor
21:04 11 May 23
I was looking for a reliable locally owned company to clean my ducts and these guys came highly recommended on Yelp.I am so glad I found Chimney Star They sent Chris to my house and he did an amazing job. He was very knowledgeable and professional, and was able to Repair and get my air ducts back into working order quickly. Now the air flow in my home is much better than ever, I'm really happy with the results
Paul Simpson
21:04 05 May 23
The gas fireplace installation was done quickly and professionally. I love my new fireplace
William Weaver
22:21 04 May 23
We had our dryer vent clogged and couldn't dry our clothes. We called Chimney star to schedule a cleaning. They showed up on time and did an outstanding job. Our dryer is working much better now.
Harold Schultz
20:11 01 May 23
The guys who cleaned my chimney and air ducts were really professional and courteous. They took the time to explain the process and address all of my concerns . I would hire them again without hesitation because of the attention to details and professional approach
Willie Lilly
20:28 30 Apr 23
Chimney Star has been my go-to air duct cleaning service for years now. They're honest, reliable and more importantly, affordable! I've used them a few times and each time they have delivered excellent results. Their prices are competitive and the staff (especially Moses) is knowledgeable and friendly. Highly recommend Chimney Star for all your air duct cleaning needs in Austin!
I recently hired Chimney Star to clean my chimney and air ducts as part of a regular maintenance plan. The technicians were very skilled and professional, They took great care of my house and even went above and beyond by providing helpful tips to keep my chimney and air ducts in good condition. I was very happy with their service as a whole, and I would recommend them to anyone!
Elmer S. Stone
18:40 21 Apr 23
I just moved in to Austin from California and I had no idea how to take care of my chimney and found these guys on our HOA newspaper . The technician Moses provided an excellent chimney inspection service patiently answered all my questions, and I learned a lot about maintaining my chimney. I would definitely use their services for the annual inspection and sweep in the future!
Lindile Gqoza
20:06 20 Apr 23
Highly recommend this company for chimney repair in Austin! David did an excellent job fixing my chimney and the price was very reasonable and communication with the office was great
Leslie Balsamo
19:04 15 Apr 23
I recently hired Chimney Star to inspect and maintain my chimney after and was blown away by their professionalism. From the moment I called for an appointment with Abraham, they were incredibly helpful, positive and reliable. Not only did they explain the process thoroughly, but they also saved me a lot of money in the process. I would highly recommend Chimney Star to anyone looking for a reliable and professional service!
James Grimes
18:10 28 Mar 23
The home inspector warned me about various problems with the chimney before I sold my house. My first thought was that it would cost a fortune to fix. However, my concerns were allayed when I met Moses. Inexpensive and less disruptive than I had anticipated, they fixed my chimney in no time. The sale went through without a hitch, and I was free to move on to my next place, Thank you!
Carl Johnston
17:55 28 Mar 23
The #1 Air Duct Cleaning Service in Austin, Texas.
An optimized air duct system is crucial for maintaining a healthy living environment and saving on energy expenses.
At Chimney Star, we understand the importance of clean air ducts and offer a range of professional air duct cleaning services tailored to your needs.
Our experienced technicians are committed to ensuring your air duct system operates efficiently, providing you with cleaner air and reduced energy costs. Trust Chimney Star for top-notch air duct cleaning services in Austin, Texas.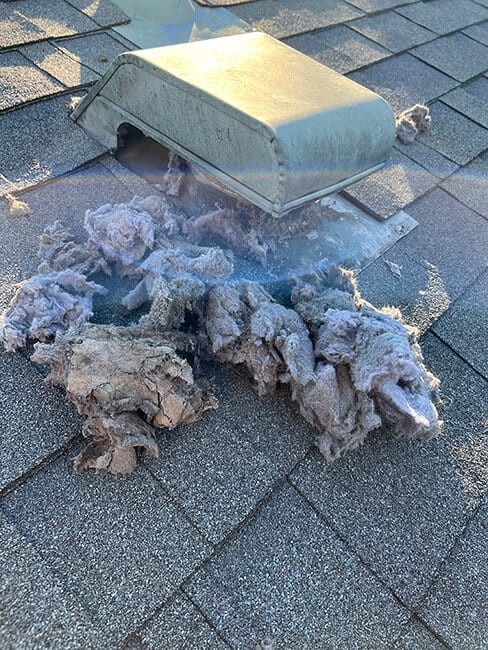 Our Services:
We provide a comprehensive range of air duct services, ensuring the highest quality indoor air and optimal system performance. Our experienced technicians are trained in various aspects of air duct maintenance, repair, and installation, catering to all your air duct needs.
Air Duct Cleaning
A clean air duct system is essential for maintaining a healthy indoor environment. Our professional air duct cleaning service uses powerful equipment, rotary power or pneumatic brushes, and high-pressure air scrubbing devices to remove dust, debris, and allergens from your ducts.
This process ensures improved air quality, reduced allergens, and increased energy efficiency in your home or business. Trust us to provide thorough and effective air duct cleaning in Austin, Texas. 🌟
Commercial Air Duct Cleaning
Maintaining clean air ducts in commercial spaces is crucial for the health and well-being of employees, customers, and visitors. At Chimney Star, we offer specialized commercial air duct cleaning services tailored to a variety of industries and businesses, including:
Hospitals and Healthcare Facilities 🏥
Laboratories 🔬
Office Buildings 🏢
Schools and Universities 🏫
Manufacturing and Warehouse Facilities 🏭
Chemical Plants and Industrial Facilities ⚙️
Retail Shops and Malls 🛍️
Hotels, Restaurants, and Grocery Stores 🏨🍽️🛒
Mid and High-Rise Buildings 🌇
Residences, Homes, Townhomes, Condominiums, and Apartments 🏘️
Our skilled technicians use advanced techniques and equipment to ensure the best possible results, contributing to a cleaner and healthier environment for all.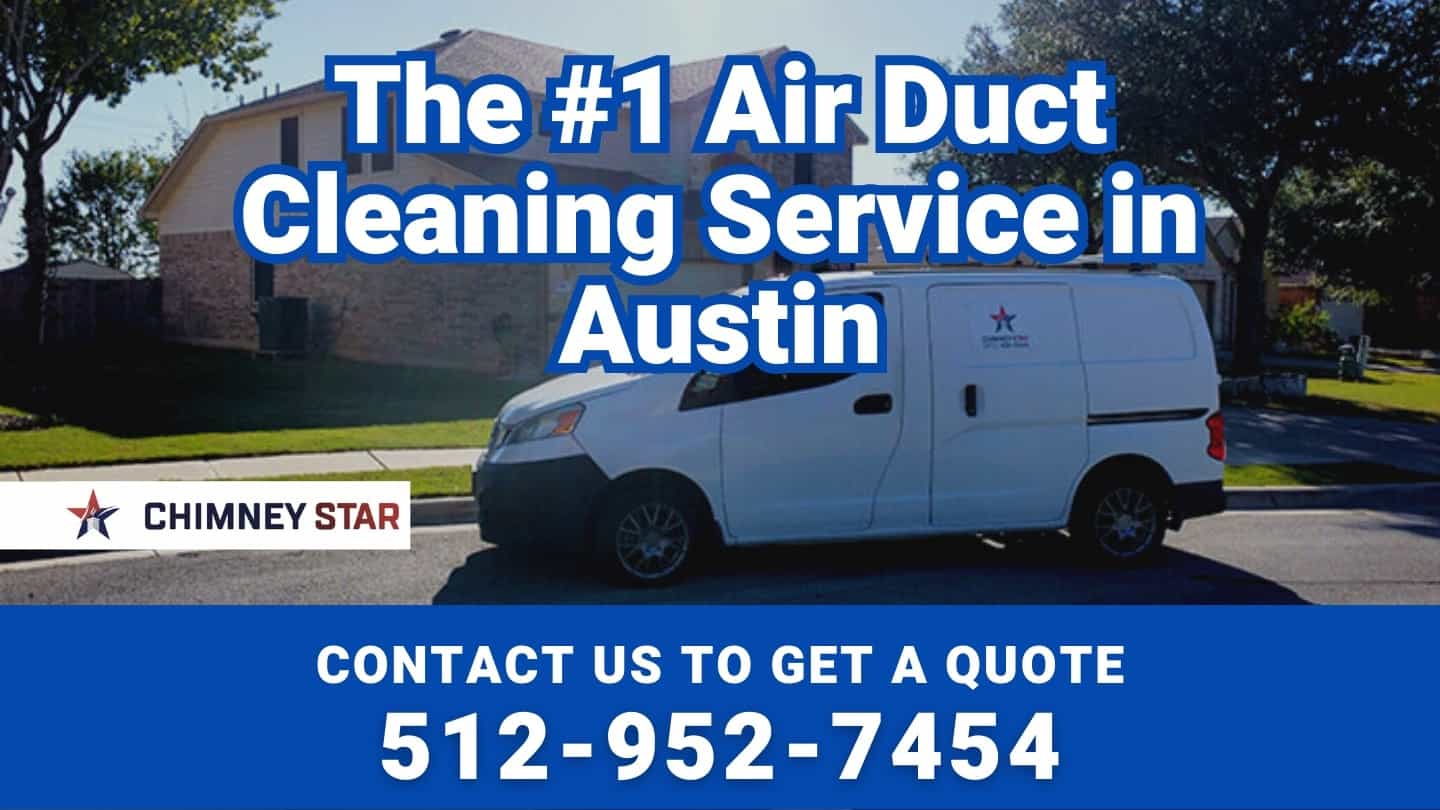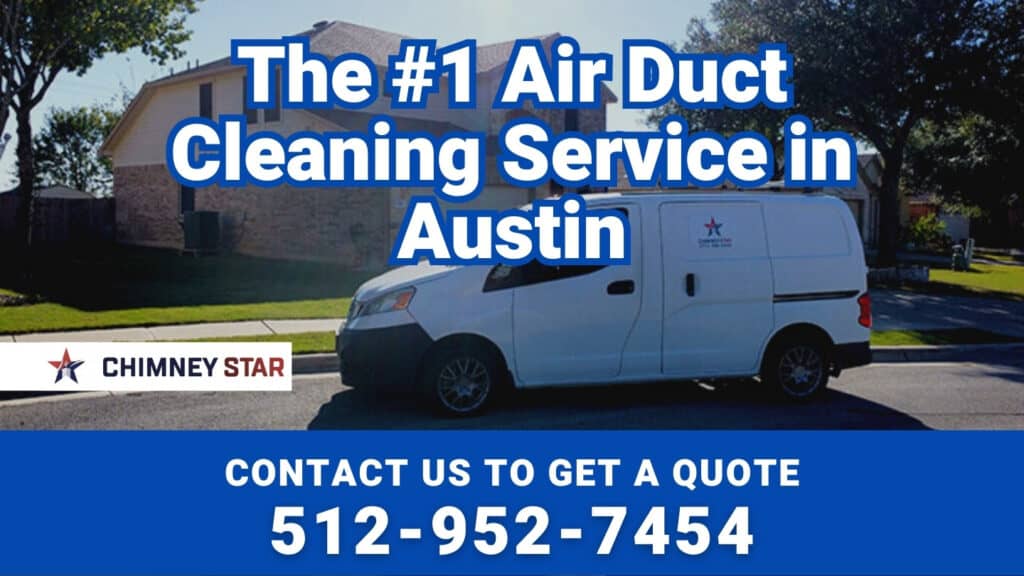 Air Duct Inspection 🔍
A thorough air duct inspection is the first step in maintaining a safe and efficient HVAC system. Our Chimney Star technicians are trained to carefully assess your air ducts, identifying any potential issues, such as leaks, blockages, or contamination.
This process allows us to provide recommendations for necessary repairs, cleaning, or maintenance to ensure your system operates at peak performance.
Regular air duct inspections can help prevent costly issues and contribute to a healthier living or working environment. Trust our team to provide you with a comprehensive assessment and a clear path forward to a cleaner air duct system.
Duct Repair 🔧
A well-functioning duct system is essential for maintaining a comfortable and energy-efficient living or working environment.
At Chimney Star, we offer professional duct repair services to address a wide range of issues, including damaged or leaking ducts, disconnected sections, and improperly sealed connections.
Our experienced technicians will quickly identify and resolve any problems, ensuring that your ductwork is functioning at optimal efficiency.
By investing in regular duct repairs, you can extend the life of your HVAC system, improve indoor air quality, and lower your energy bills. Trust our team to deliver top-quality duct repair services in Austin and surrounding areas (Pflugerville, Round Rock, Georgetown, Cedar Park, etc).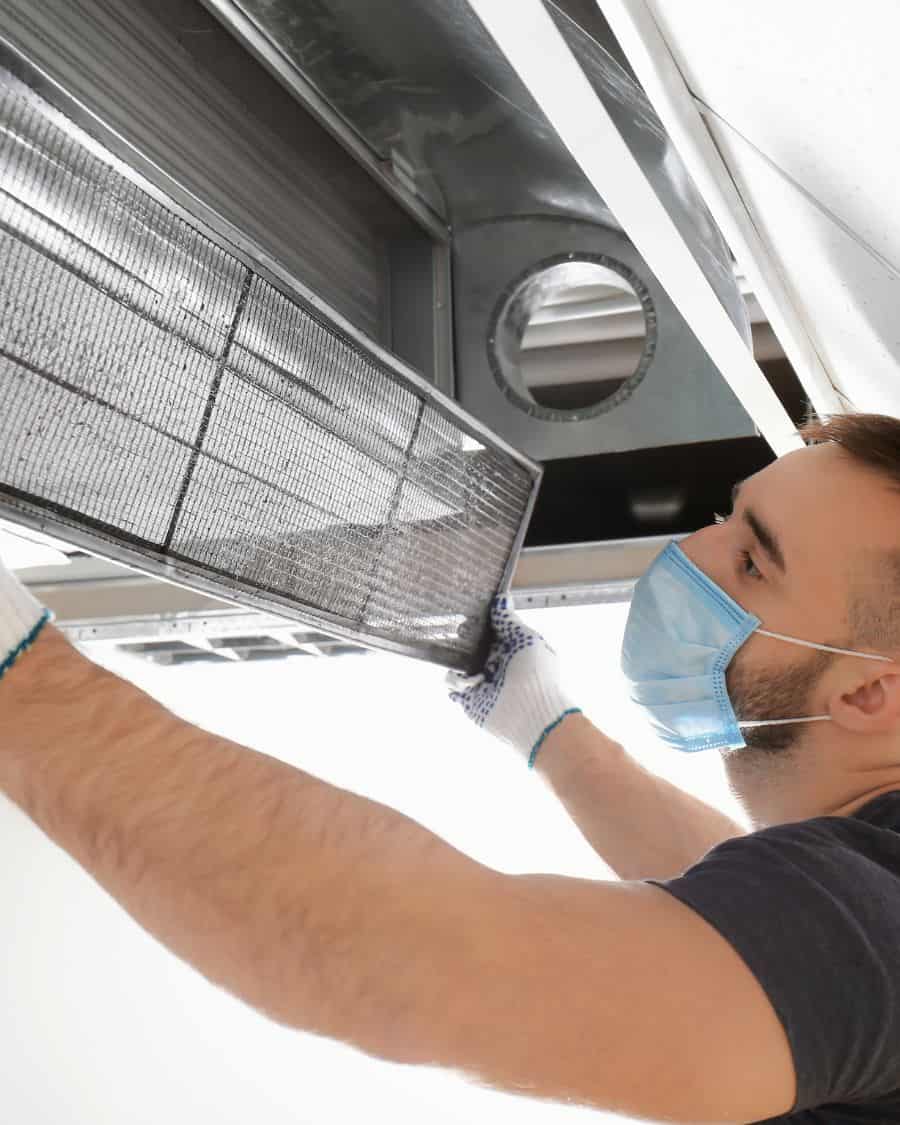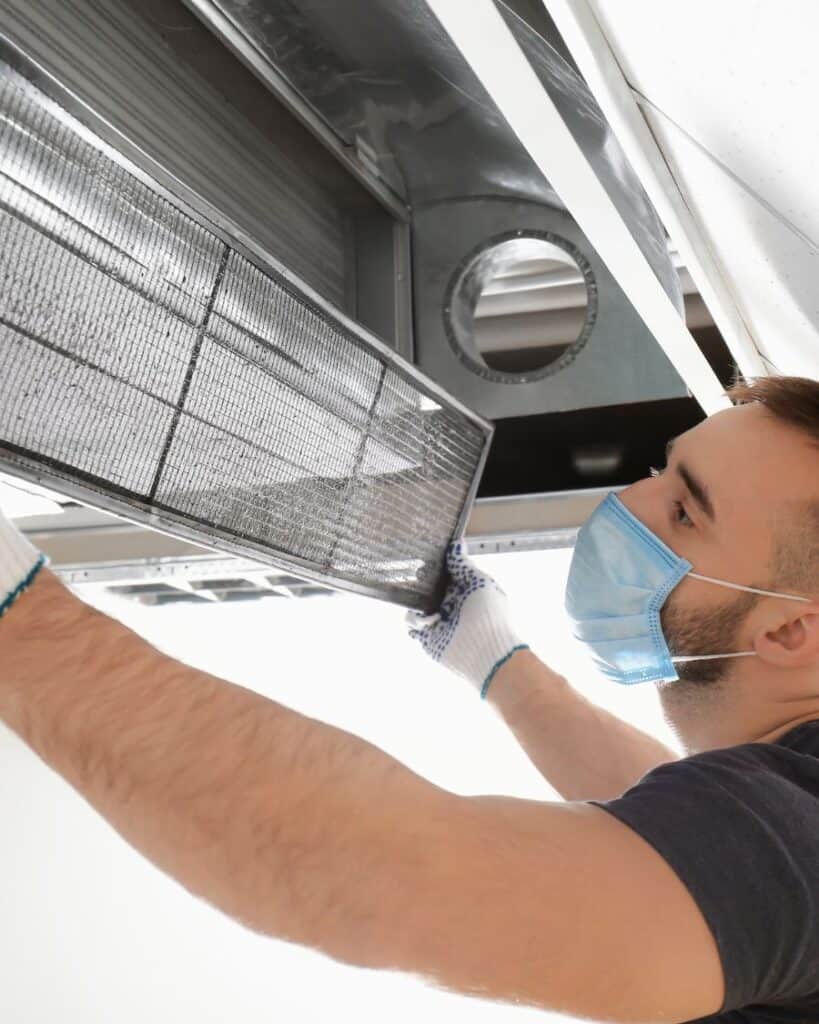 Duct Sealing 🌬️
Duct sealing is a crucial service for ensuring that your HVAC system operates efficiently and effectively. Leaky ducts can lead to significant energy loss, resulting in higher utility bills and reduced indoor comfort.
At Chimney Star, we specialize in professional duct sealing services that help minimize air leakage and improve the overall performance of your HVAC system.
Our skilled technicians use high-quality materials and proven techniques to seal gaps, cracks, and other potential points of air leakage.
By investing in duct sealing, you'll enjoy better indoor air quality, increased energy efficiency, and a more comfortable living or working environment in your Austin, TX home or business.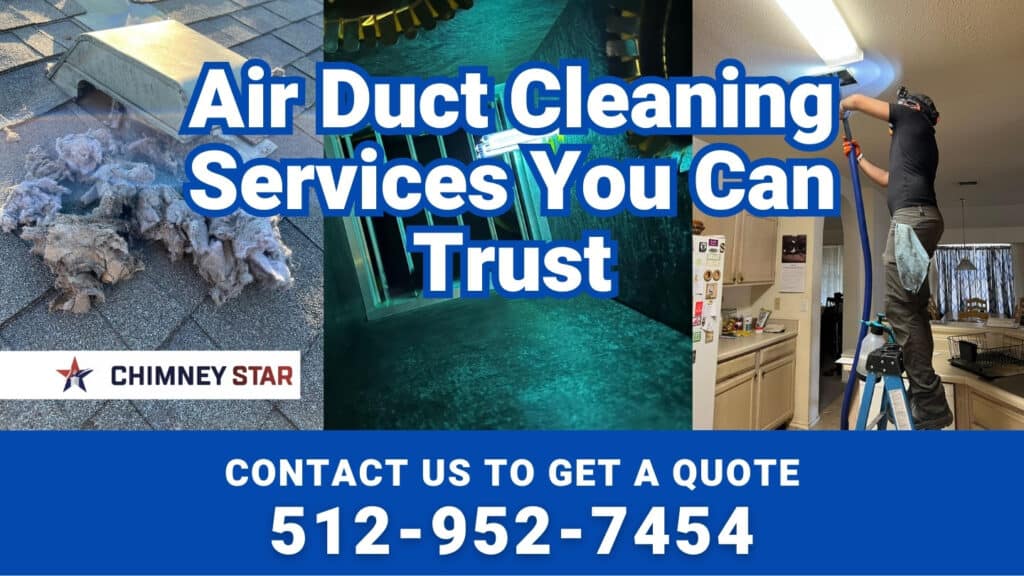 Duct Installation 🛠️
Proper duct installation is essential for the optimal performance of your HVAC system, ensuring efficient airflow and a comfortable indoor environment.
At Chimney Star, we offer professional duct installation services in Austin, TX, for both residential and commercial properties. Our experienced technicians are well-versed in designing and installing ductwork that is tailored to your specific needs and the layout of your building.
We use high-quality materials and adhere to industry best practices to ensure that your new duct system is efficient, durable, and long-lasting.
Whether you're building a new property or upgrading your existing HVAC system, trust Chimney Star for expert duct installation services that will help keep your indoor air clean, comfortable, and energy-efficient.
Our Affordable Rates 💰
At Chimney Star, we believe in providing top-quality air duct cleaning services at affordable rates. We understand that maintaining a clean and efficient HVAC system is essential for your comfort and well-being, which is why we offer competitive pricing that makes our services accessible to everyone.
Our pricing structure is transparent, with no hidden fees or surprise charges, so you can trust that you are getting the best value for your money.
The Best for You – Professionals with Great Fast Service ⚡
When you choose Chimney Star for your air duct cleaning needs, you can expect nothing less than professional, efficient, and fast service.
Our experienced, CSIA-certified technicians are skilled in using advanced equipment and effective cleaning methods to ensure thorough and timely results.
We take pride in our ability to complete jobs quickly without compromising on quality, allowing you to enjoy the benefits of a clean and well-maintained HVAC system in no time.
Trust Chimney Star for top-notch air duct cleaning services that prioritize your satisfaction and peace of mind.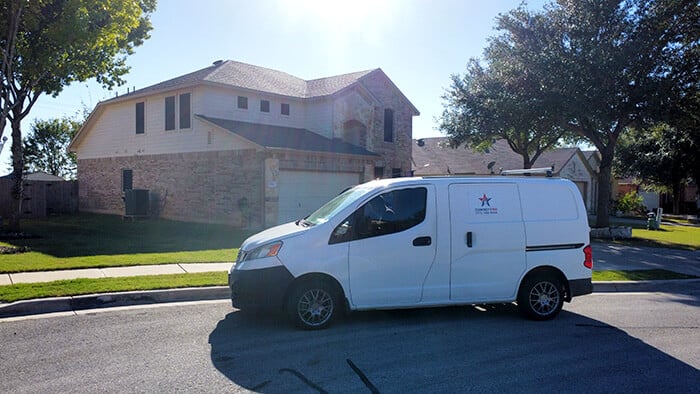 The Main Benefits of Air Duct Cleaning:
Improve Your Indoor Air Quality 🍃
One of the primary benefits of air duct cleaning is the significant improvement in your indoor air quality.
Over time, dust, allergens, and pollutants accumulate within your air ducts, eventually making their way into the air you breathe.
Regular air duct cleaning removes these contaminants, ensuring that the air circulating throughout your home is cleaner and healthier. This can be particularly beneficial for individuals with allergies or respiratory issues, as it reduces exposure to allergens and irritants.
Improved Energy Efficiency 💡
Another major advantage of air duct cleaning is its impact on your HVAC system's energy efficiency. When your air ducts are clogged with debris, your system has to work harder to circulate air, resulting in higher energy consumption and increased utility bills.
By removing this buildup, your HVAC system can operate more efficiently, reducing energy costs and prolonging the lifespan of your equipment. A clean and well-maintained air duct system is not only beneficial for your health but also for your wallet.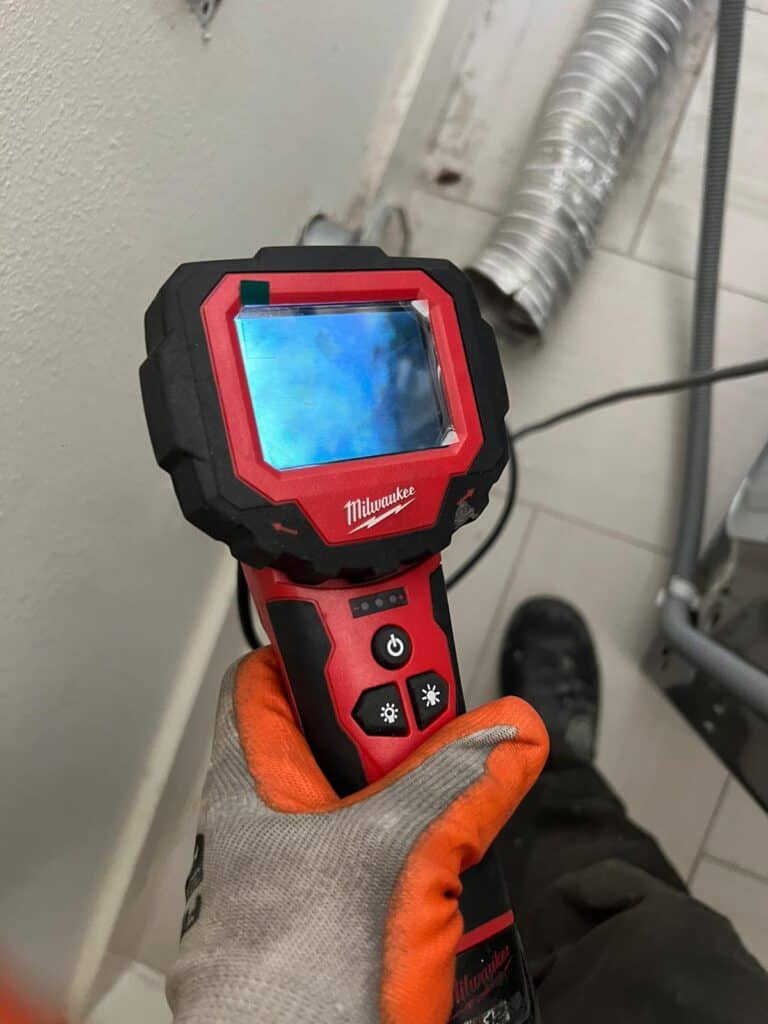 6 Signs you need to get your air ducts cleaned
1. Dust and debris: If you notice an excessive amount of dust and debris coming out of your vents or registers, it may be a sign that your air ducts need to be cleaned.
2. Unpleasant odors: If you notice strange or unpleasant odors coming from your vents or registers, it could be a sign that your air ducts are harboring mold, mildew, or other contaminants.
3. Reduced airflow: If you notice that the airflow from your vents or registers is weaker than usual, it could be a sign that your air ducts are clogged with dust and debris.
4. Increased allergies or respiratory symptoms: If you or a family member have noticed an increase in allergies or respiratory symptoms, it could be an indication that the air inside your home is contaminated with dust, mold, or other pollutants that are circulating through the air ducts.
5. Increase the amount of dust around the house, if you find yourself cleaning the same areas in the house from dust more often than before
6. Visible mold or mildew: If you notice mold or mildew growing inside your air ducts, it's important to have them cleaned as soon as possible. Mold can be harmful to your health and can also damage the ducts themselves.
It's important to note that not all of these signs necessarily mean that you need to get your air ducts cleaned. But if you notice any of these signs or have concerns about the air quality in your home, it's a good idea to have your air ducts inspected by a professional.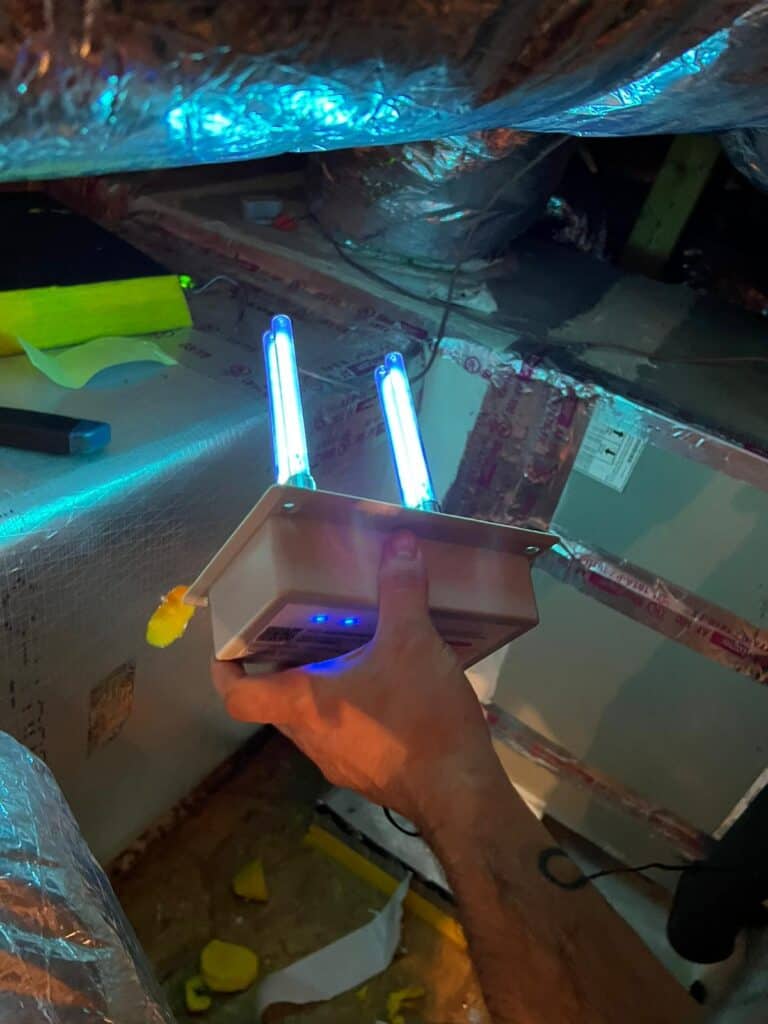 How to Prepare for Air Duct Cleaning
Preparing for air duct cleaning can ensure a smoother and more efficient process. Follow these simple steps to get your home ready for the service:
1. Clear the area around vents and registers: Make sure that furniture, rugs, and other objects are not obstructing access to air vents and registers throughout your home. This will allow the technicians to easily reach and clean all components of your duct system.
2. Remove any fragile items: Take down any delicate or valuable items that are close to the vents or could be accidentally damaged during the cleaning process. This includes paintings, photographs, and decorative items.
3. Secure your pets: For the safety and comfort of both your pets and the technicians, it's a good idea to keep your pets in a separate room or confined area during the air duct cleaning.
4. Provide access to the HVAC system: Make sure the technicians have easy access to your HVAC system, including the furnace, air handler, and air conditioning units. This may require clearing a path or moving objects that could be blocking access.
5. Inform the technicians of any specific concerns: If you have any particular issues or concerns with your air duct system, be sure to let the technicians know before they begin the cleaning process. This will help them address your concerns more effectively.
By taking these steps to prepare for air duct cleaning, you can help ensure a successful and efficient service that will leave your home's air duct system clean and functioning optimally!
What to expect during an air duct cleaning appointment?
During an air duct cleaning appointment, a professional technician will use a Negative Air Machine or a contacts base Duct cleaning brush to thoroughly clean the ductwork in your home or office. The exact process will vary depending on the specific needs of your House, but generally, the following steps will be taken:
1. Inspection – our technician will inspect your ductwork and plenum box to identify any areas needing special attention, such as areas with heavy dust, mold, or debris buildup.
2. Protection – our technician will cover the areas of your home that will be cleaned to prevent dust and debris from spreading during the cleaning process.
3. Removing the vent covers – The technician will remove the vent covers to access the ductwork.
4. Cleaning the ducts – our technician will use specialized tools, such as Negative airbrushes and vacuums, to remove dust, debris, and other contaminants from the ducts. They may also use a disinfectant to kill any mold or bacteria that may be present in the ducts.
5. Cleaning the vent covers: we will clean the vent covers to remove any dust or debris that may have accumulated on them.
6. Reinstalling the vent covers: we will reinstall the vent covers once the cleaning is completed.
7. Final inspection: we will do a final review to ensure that the air ducts are clean and that all debris has been removed.
The whole process can take anywhere from 1-3 hours to a full day, depending on the size of your house and the condition of the ducts.
How Does Air Duct Cleaning Help with Allergies & Asthma?
Allergies can be a frustrating and debilitating condition, causing symptoms such as sneezing, runny nose, and itchy eyes. For many people, allergies are a year-round problem, and it can be difficult to find relief from the constant symptoms.
But did you know that one of the keys to alleviating allergy symptoms could be as simple as having your air ducts cleaned?
Air ducts are responsible for circulating the air throughout your home or office. Over time, dust, pollen, pet dander, and other allergens can accumulate in the ducts, and these contaminants can be circulated through the air, causing symptoms such as sneezing, runny nose, and itchy eyes. By having your air ducts cleaned, you can remove these allergens and irritants from the air, which can help reduce allergy symptoms.
Why Chimney Star?
At Chimney Star, we understand the importance of clean air and the impact it can have on your health and well-being.
● We are local and family-owned
● We Use the latest powerful Hepa Filtered Hypervac equipment as well as rotary brushes, and powerful vacuums to remove dust, pollen, pet dander, and other allergens from the air ducts
● Our team of experts is highly trained, experienced, and certified to provide the best service
● we use appropriate cleaning agents that are safe for your health and the environment
● Our team is also dedicated to providing excellent customer service, ensuring that you are completely satisfied with the job. We also offer a 100% satisfaction guarantee.
You can trust us to provide you with the best service at an affordable price. Choose Chimney Star for air duct cleaning service in Austin and breathe easy knowing that you have the best team on the job.